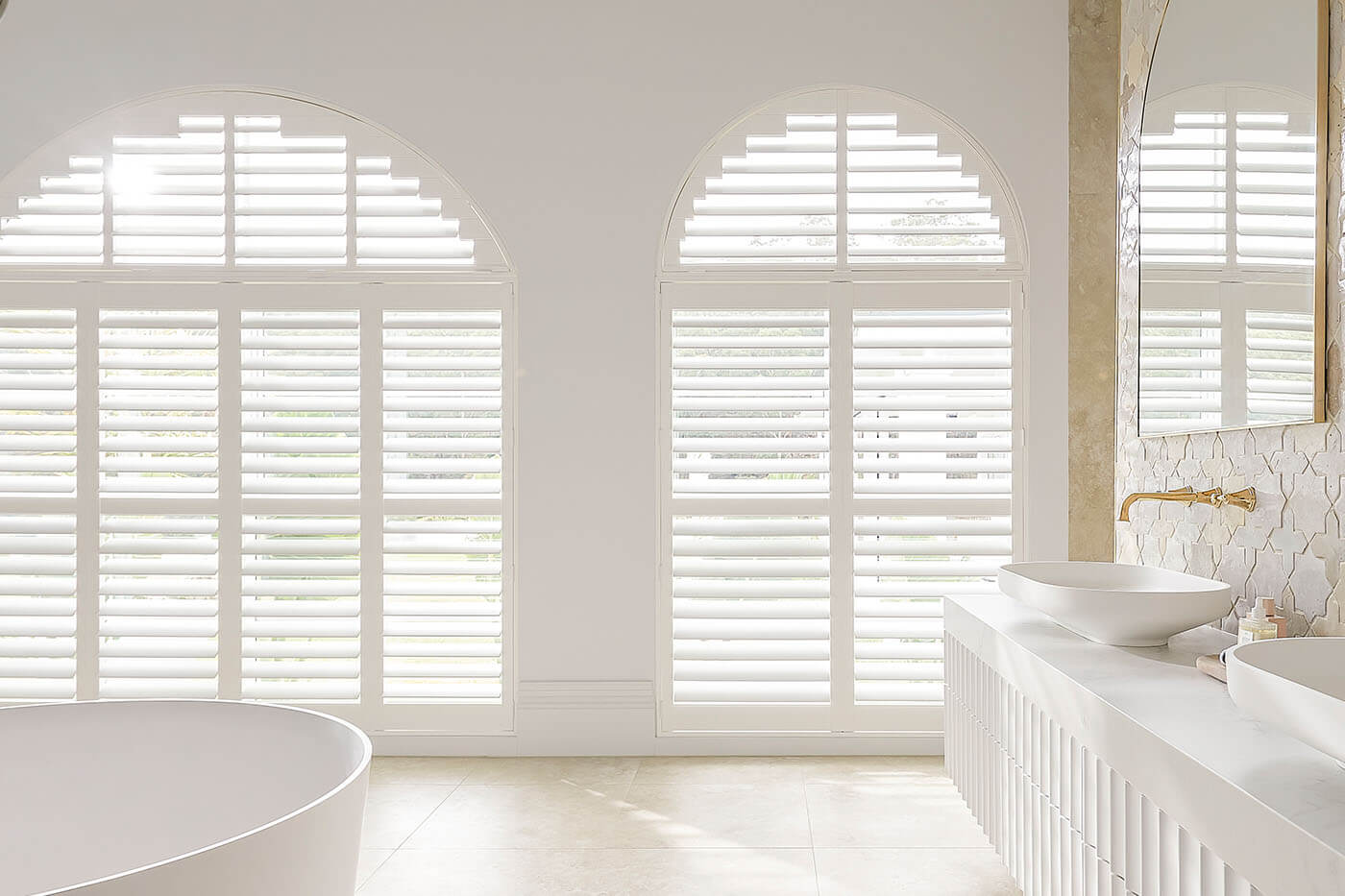 LUXAFLEX® POLYSATIN SHUTTERS
Crafted with pride in Australia, Luxaflex® PolySatin® Plantation Shutters embody an unassuming yet refined charm that elevates the visual appeal of any domestic interior. Unquestionably, they represent the definitive solution for those seeking functional and stylish shutters for wet areas such as bathrooms and laundries.
Complete Blinds Sydney, the esteemed reseller of these exceptional shutters, is proud to offer Luxaflex® PolySatin® Shutters, which are fortified with a 20-year warranty to guarantee their imperviousness to moisture-induced damage. These shutters will never blister, peel, flake, corrode, or fade, thereby ensuring a durable and elegant finish that stands the test of time.
Luxury & Style
Luxaflex® PolySatin Plantation Shutters exude durability, made from a resilient polyresin compound coated with cutting-edge technology that replicates the smooth, matte appearance of freshly painted wood. Choose from an array of elegant designs to achieve your desired style.
At Complete Blinds Sydney, we proudly offer these remarkable shutters in three timeless shades of white. Personalize them further with tasteful hinge finishes, stylish valances, distinctive frames, and three distinct louvre sizes. The result is a stunning, custom-made shutter that combines enduring quality with a visually pleasing finish.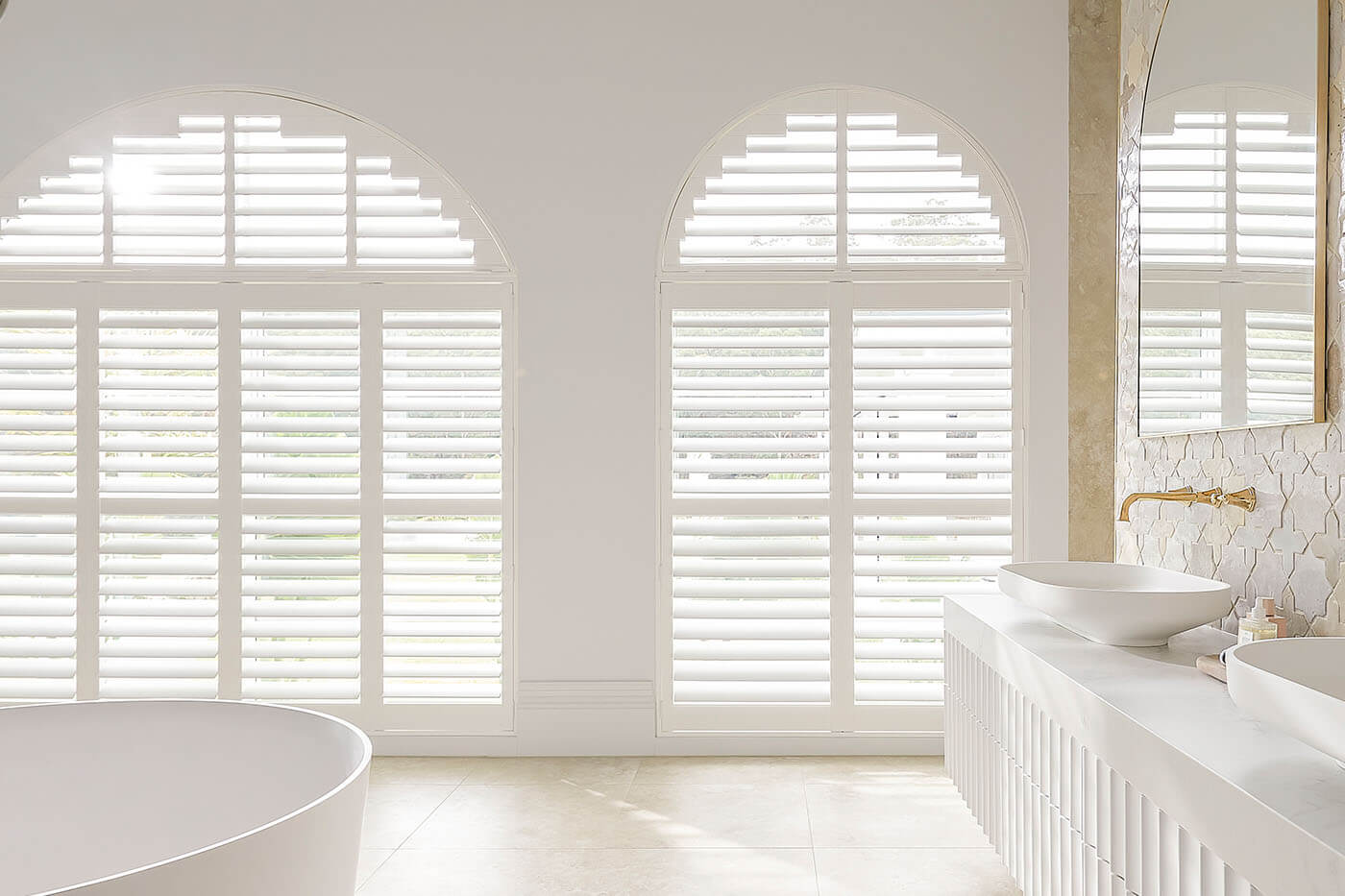 Any Shape, Any Size
Experience the remarkable versatility of Luxaflex PolySatin Shutters. Customised to fit windows of any size and shape, including arches, angles, hexagons, and octagons, these shutters are tailored to perfection. Embrace the beauty and functionality of shutters designed specifically for your unique non-rectangular windows.
Perfectly Versatile
Discover the versatility of Luxaflex PolySatin Plantation Shutters as room dividers or stylish window solutions. Customised to your needs, these shutters come in hinged, hinged bi-fold, bi-fold on-track, and by-pass on-track designs. Transform your space with these bespoke shutters tailored to perfection.
Energy Saving Efficiency
Experience the energy-saving benefits of Luxaflex® PolySatin Plantation Shutters. Their unique cellular construction and polyresin material creates a layer of insulation that minimizes heat exchange and maintains a consistent temperature in your home.
During summer, these shutters reflect solar rays, blocking out heat and keeping your space cool. In winter, open them to welcome the sun's warmth, reducing the need for artificial heating and lowering energy costs. Embrace the comfort and efficiency of PolySatin Shutters for a year-round comfortable living environment.
Woodlore® shutters are a strong and long-lasting addition to your home. Made with a wood-composite material and MDF core, these shutters offer both style and durability.
Woodlore Plus is a man-made product developed for use in the moisture zones of your home. It consists of a timber core, encased in a synthetic product called ABS. They are ideal for kitchens, bathrooms and laundries.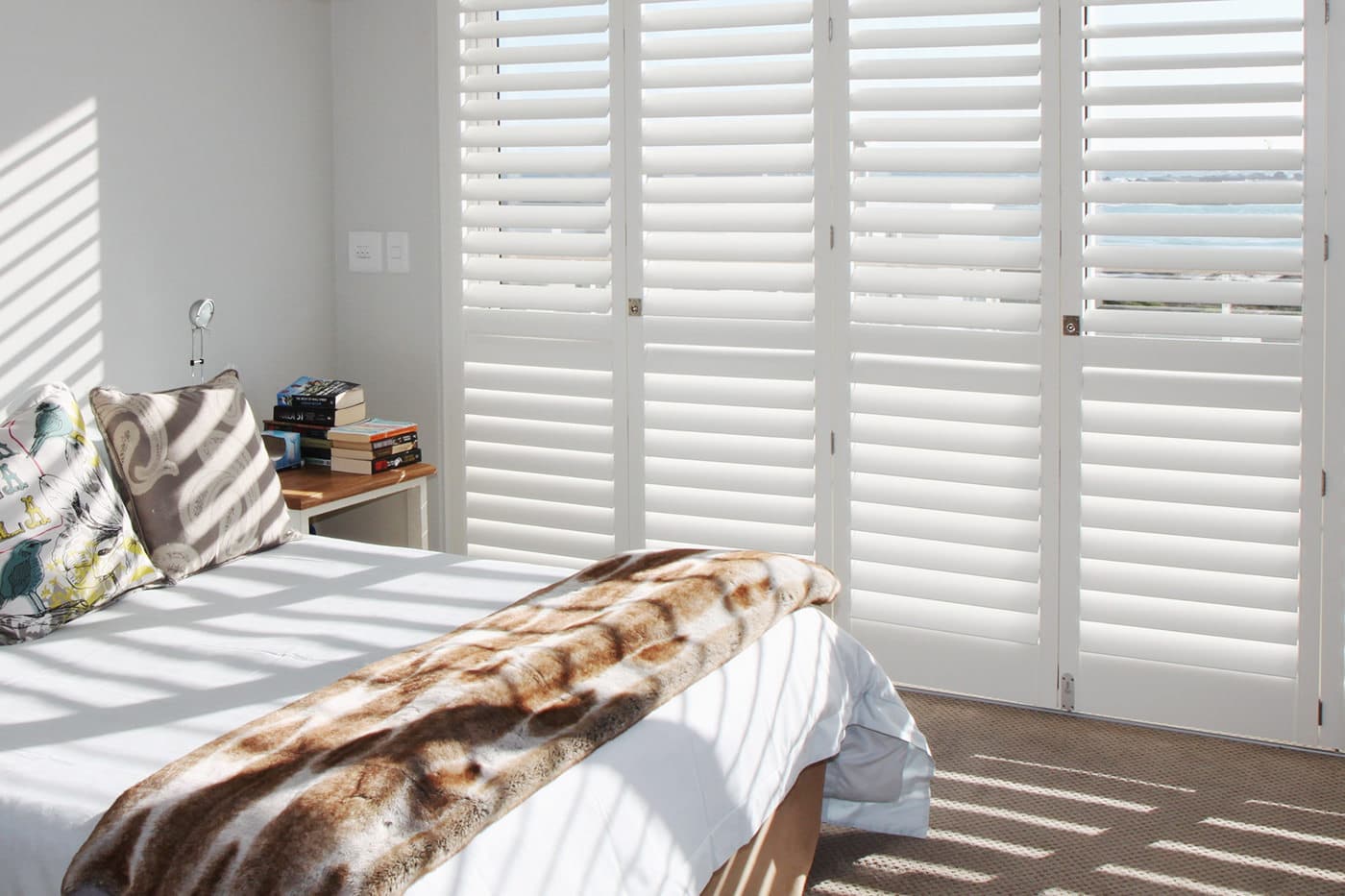 Brightwood uses specialised premium hardwood, making the shutter panels lighter, allowing you to have wider panels as well as unique shapes for those unusual shaped windows you cannot find a solution for.
Sophisticated and unique, take up residence with Normandy Shutters, displaying wood's unique natural beauty and luxury. Normandy is made from solid timber sourced from sustainably managed hardwood forests and plantations.
Made by Luxaflex in Australia, Plantation Shutters made from PolySatin add a touch of simple elegance to any home décor and are indisputably the optimal choice for wet locations such as bathrooms and laundry rooms.
Expand your living areas to the great outdoors with our durable, low maintenance range of external Aluminium Shutters. They are the ideal solution for patios, decks and balconies providing adjustable privacy, light and sun control, as well as protecting your outdoor areas from the elements.
Automate your internal Plantation Shutters with the award-winning motorisation from Norman. Control a single shutter, a room of shutters or every shutter in your house, exactly how you want it. With the PerfectTilt ™ App, you can control your shutters from anywhere with any smart device.
At Complete Blinds, we offer an exquisite selection of premium window coverings to elevate your living and working environments. With our unrivaled expertise in blinds, curtains, shutters, and awnings, we provide the perfect combination of sophistication and functionality. Our dedicated team is committed to delivering impeccable customer service, ensuring a seamless and refined experience from start to finish.
Whether you desire timeless elegance, contemporary allure, or versatile practicality, our curated range of exquisite window treatments will exceed your expectations. Discover the art of transformative design and indulge in the luxury of bespoke window coverings that truly reflect your refined taste and elevate your space to new heights of grandeur. Experience the epitome of excellence with Complete Blinds today.