Discover Normandy Shutters by Norman, the epitome of natural beauty and premium craftsmanship. Made from sustainably sourced Phoenixwood, these sophisticated stained shutters exhibit a luxurious grain and exceptional strength-to-weight ratio. With prescription wood conditioning, they ensure unmatched durability.
Whether your windows boast unique shapes like triangles or circles or require a sunburst design, Normandy offers tailored solutions to fit any window and complement your décor. Choose from an extensive range of standard and custom colours, allowing you to bring your design dreams to life. Elevate your space with the timeless elegance and customisable options of Normandy® Shutters.
Built For A Lifetime
Experience the exceptional durability of Normandy Shutters, built to last for decades. Crafted with meticulous attention to detail, these shutters feature mortise and tenon joints that guarantee long-lasting quality. The joints are formed by cutting a mortise through the wood and fitting a sturdy tenon into it, creating a secure and seamless connection.
This precise craftsmanship eliminates the need for additional screws or fasteners, ensuring a tight and reliable lock. Enjoy peace of mind knowingthat your Normandy Shutters are designed to withstand the test of time without compromising on quality. See this link to better understand the quality difference of Norman Shutters.
Durable & Luxurious
At Complete Blinds Sydney, we understand the importance of impeccable craftsmanship when it comes to shutters. That's why we offer Normandy Shutters, renowned for their meticulous finishing process. Through multiple rounds of sanding with progressively finer sandpaper, the wood's pores are opened, and its surfaces are smoothed to perfection.
Each layer is then meticulously coated with high-quality stain or paint, resulting in a deep and translucent finish that is characteristic of Normandy Shutters. Trust in our commitment to exceptional quality and durability when choosing Normandy Shutters from Complete Blinds Sydney.
Quality, For Life
Norman's patented Prescription Wood Conditioning minimises shrinking and swelling in Normandy Shutters. By considering each customer's location and humidity levels, the wood is dried to match its final environment. The outcome: shutters that close seamlessly without gaps, ensuring long-lasting beauty and solidity.
The Perfect View
InvisibleTilt™: no tilt rod needed. Norman's embedded gear and pinion system provides effortless and sleek louvre tilting. No extra screws or fasteners to worry about. Precise control for tighter closure and an unobstructed view. No rattling, rusting, breaking, or scuffing. Modern perfection.
Woodlore® shutters are a strong and long-lasting addition to your home. Made with a wood-composite material and MDF core, these shutters offer both style and durability.
Woodlore Plus is a man-made product developed for use in the moisture zones of your home. It consists of a timber core, encased in a synthetic product called ABS. They are ideal for kitchens, bathrooms and laundries.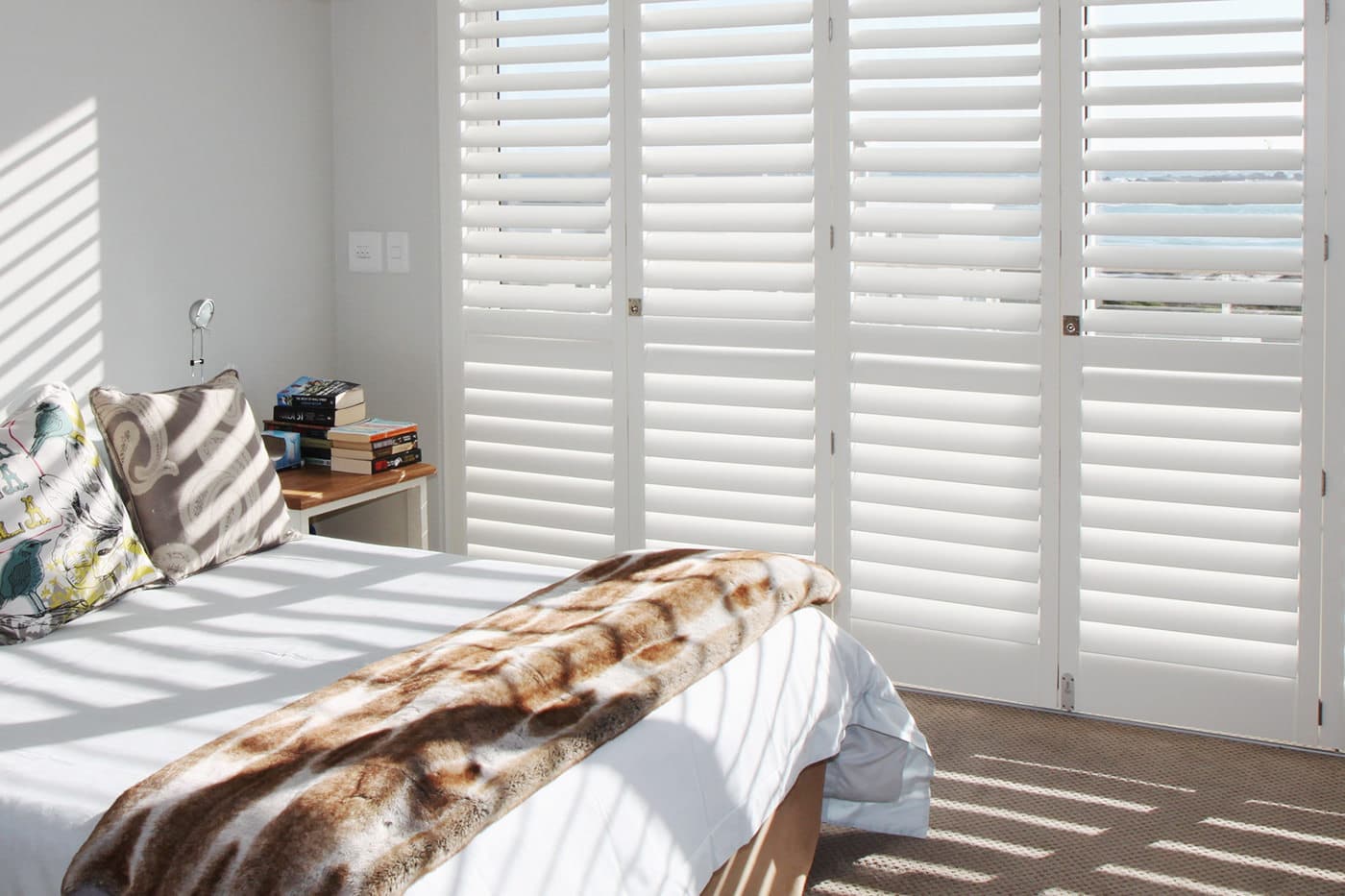 Brightwood uses specialised premium hardwood, making the shutter panels lighter, allowing you to have wider panels as well as unique shapes for those unusual shaped windows you cannot find a solution for.
Sophisticated and unique, take up residence with Normandy Shutters, displaying wood's unique natural beauty and luxury. Normandy is made from solid timber sourced from sustainably managed hardwood forests and plantations.
Made by Luxaflex in Australia, Plantation Shutters made from PolySatin add a touch of simple elegance to any home décor and are indisputably the optimal choice for wet locations such as bathrooms and laundry rooms.
Expand your living areas to the great outdoors with our durable, low maintenance range of external Aluminium Shutters. They are the ideal solution for patios, decks and balconies providing adjustable privacy, light and sun control, as well as protecting your outdoor areas from the elements.
Automate your internal Plantation Shutters with the award-winning motorisation from Norman. Control a single shutter, a room of shutters or every shutter in your house, exactly how you want it. With the PerfectTilt ™ App, you can control your shutters from anywhere with any smart device.
At Complete Blinds, we offer an exquisite selection of premium window coverings to elevate your living and working environments. With our unrivaled expertise in blinds, curtains, shutters, and awnings, we provide the perfect combination of sophistication and functionality. Our dedicated team is committed to delivering impeccable customer service, ensuring a seamless and refined experience from start to finish.
Whether you desire timeless elegance, contemporary allure, or versatile practicality, our curated range of exquisite window treatments will exceed your expectations. Discover the art of transformative design and indulge in the luxury of bespoke window coverings that truly reflect your refined taste and elevate your space to new heights of grandeur. Experience the epitome of excellence with Complete Blinds today.