Discover the versatility of Palmiye pergolas, perfect for both domestic and commercial applications. Whether you seek to create a serene oasis in your backyard or enhance the ambience of your restaurant, wedding venue, or outdoor event space, these pergolas offer an ideal solution. With their retractable louvred design, you have complete control over sunlight, shade, and airflow, allowing you to customise your outdoor environment to suit any occasion.
Whether you are a homeowner seeking tranquillity or a business owner aiming to create an inviting outdoor space, Palmiye has the solution for you. Explore our collection and unlock the potential of these versatile pergolas for your domestic or commercial setting.
Perfect, In Any Weather
Discover the boundless freedom of Palmiye pergolas, ideal for residential and diverse commercial settings. With synchronised movement panels offering an impressive 79% exposure when retracted, relish starlit nights and gentle sunlight, easily adjusting louvres to your liking.
Equip Palmiye pergolas with optional glass, outdoor blinds, and aluminium panels for year-round versatility. Shield guests from wind and rain in restaurant courtyards, provide a serene weather-proof space for weddings and events, or create inviting outdoor areas for cafes and bars. Palmiye pergolas offer a multipurpose solution, seamlessly adapting to diverse commercial settings.
Control The Climate
Featuring Polyurethane Foam-filled panels, Palmiye's Insulated Retractable Louvered Pergolas offer exceptional insulation, regulating temperature and minimising condensation. Enjoy a comfortable outdoor environment year-round, as these pergolas adapt to changing weather conditions.
Fresh Air
Experience perfect airflow control with Palmiye's Retractable Louvered Pergolas. Activate the ventilation mode to effortlessly rotate the panels, welcoming invigorating breezes and expelling stagnant air. Enjoy a refreshing and well-ventilated outdoor environment, creating a haven of comfort and tranquillity.
Motorised & Automated
Elevate your outdoor living with Somfy motorisation and Palmiye's Retractable Louvred Pergolas. Operate the louvres effortlessly via the Somfy Connexoon App, achieving the perfect balance of sunlight and shade.
Intelligent sensors collaborate with the motorisation system, responding to environmental conditions. Enjoy shade during intense sunlight, retracting during strong winds, and shelter from rain. This dynamic synergy ensures a personalised outdoor experience, enhancing comfort and peace of mind.
Luxaflex Evo Outdoor Blinds are designed and engineered in Australia specifically for the Australian market, making them ideal for our unique climate conditions.
Engineered and tested in Australia to handle our diverse and unforgiving conditions, the Luxaflex Evo MagnaTrack Awning is the most technologically advanced awning available on the market.
Folding Arm Awnings are raised and lowered using folding arms located at the outer edges. The benefit of Folding Arm Awnings is that they do not have frames and posts, so you can move around freely under the awning.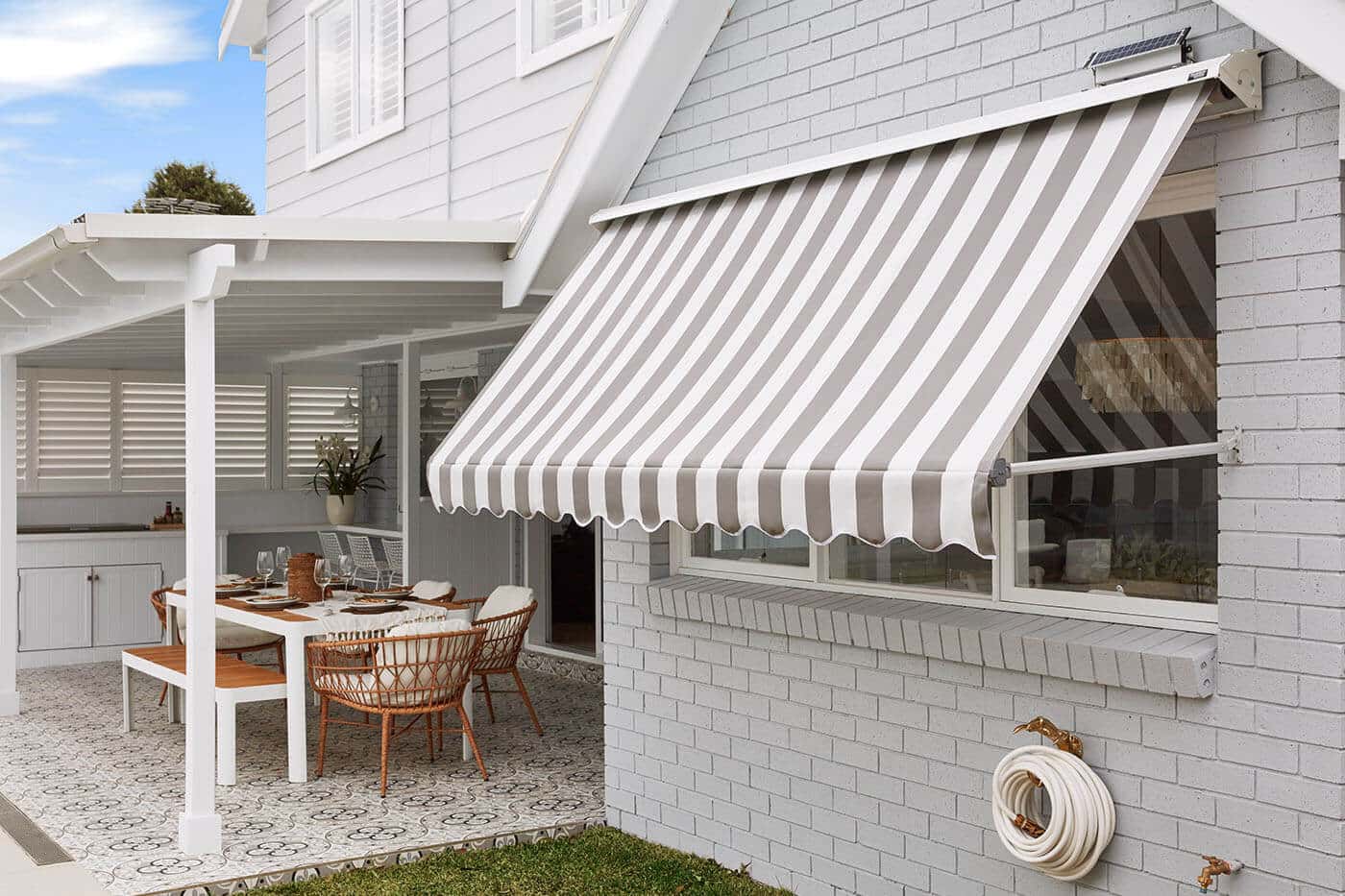 System 2000 Awnings are perfect for two-storey and multi-storey applications. The flexibility of these awnings allows for design consistency across all levels of a building. This award-winning system was designed for Australia's environments and is manufactured in Australia.
Canopy Awnings are a perfect choice for anyone wanting to add sophisticated and elegant awnings to their home or business. They come in a number of shapes and styles and can be installed over walkways, windows, and doors.
Straight Drop Awnings are very easy to operate. They are raised and lowered using a rope and pulley system found at the back of the awning and are operated using a stainless cable guide, crank control or channel-guide operation.
Luxaflex® Aluminium Awnings provide perfect shading for patios, verandahs, external windows and doors. If you are looking for traditional style and durability, consider one of our most long-standing and popular products.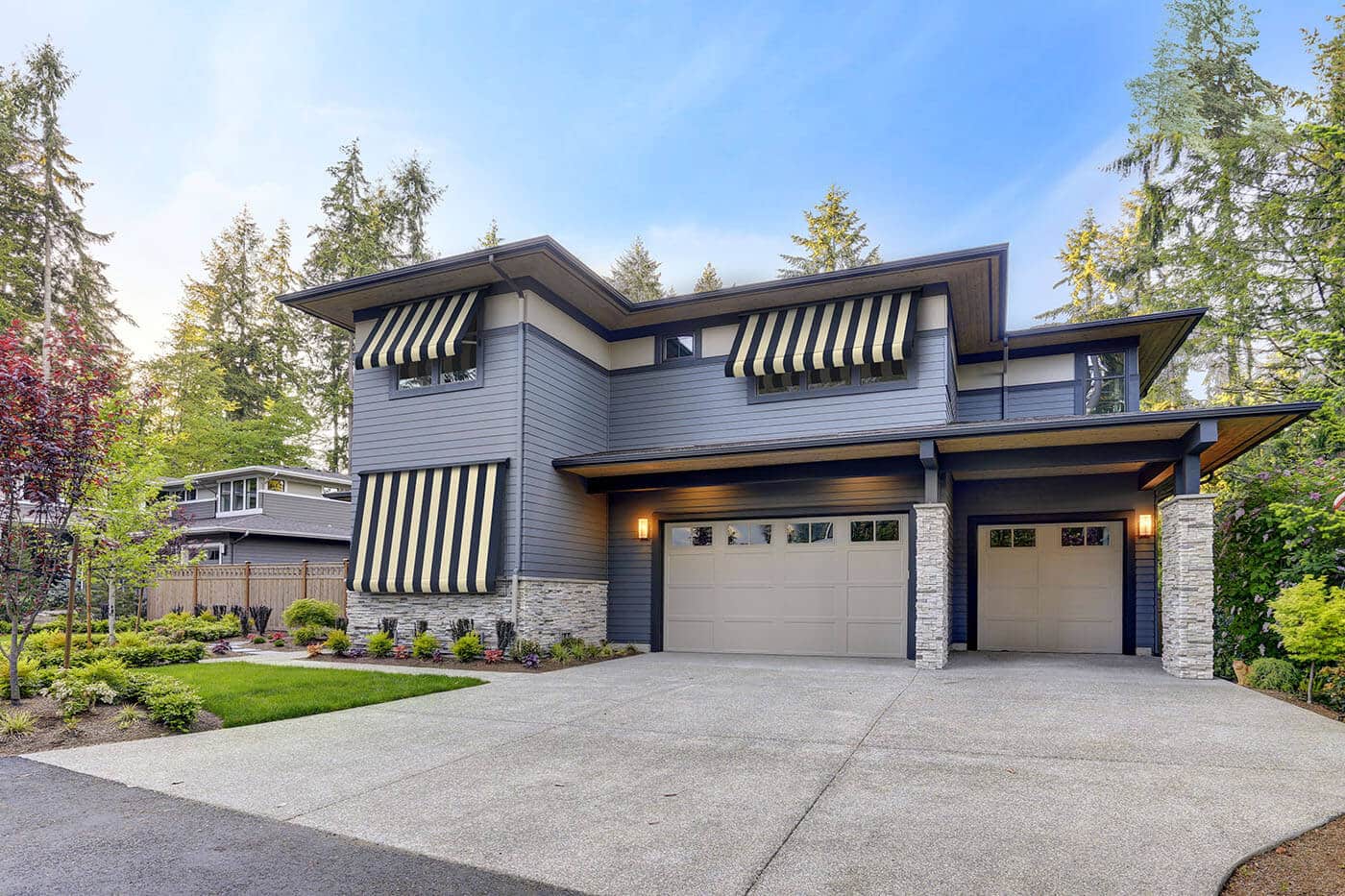 Are your existing awnings tired, worn or torn? Rather than replacing your awnings, Complete Blinds can re-cover them with a modern and durable fabric. In most cases, we can re-cover your awnings onsite.
Automate your awnings of choose with Somfy and Complete Blinds. Thanks to sun and wind sensors, your awnings will adjust automatically to weather conditions thanks to sun and wind sensors. When the sun is blazing, the awning extends and when the wind picks up, it retracts automatically.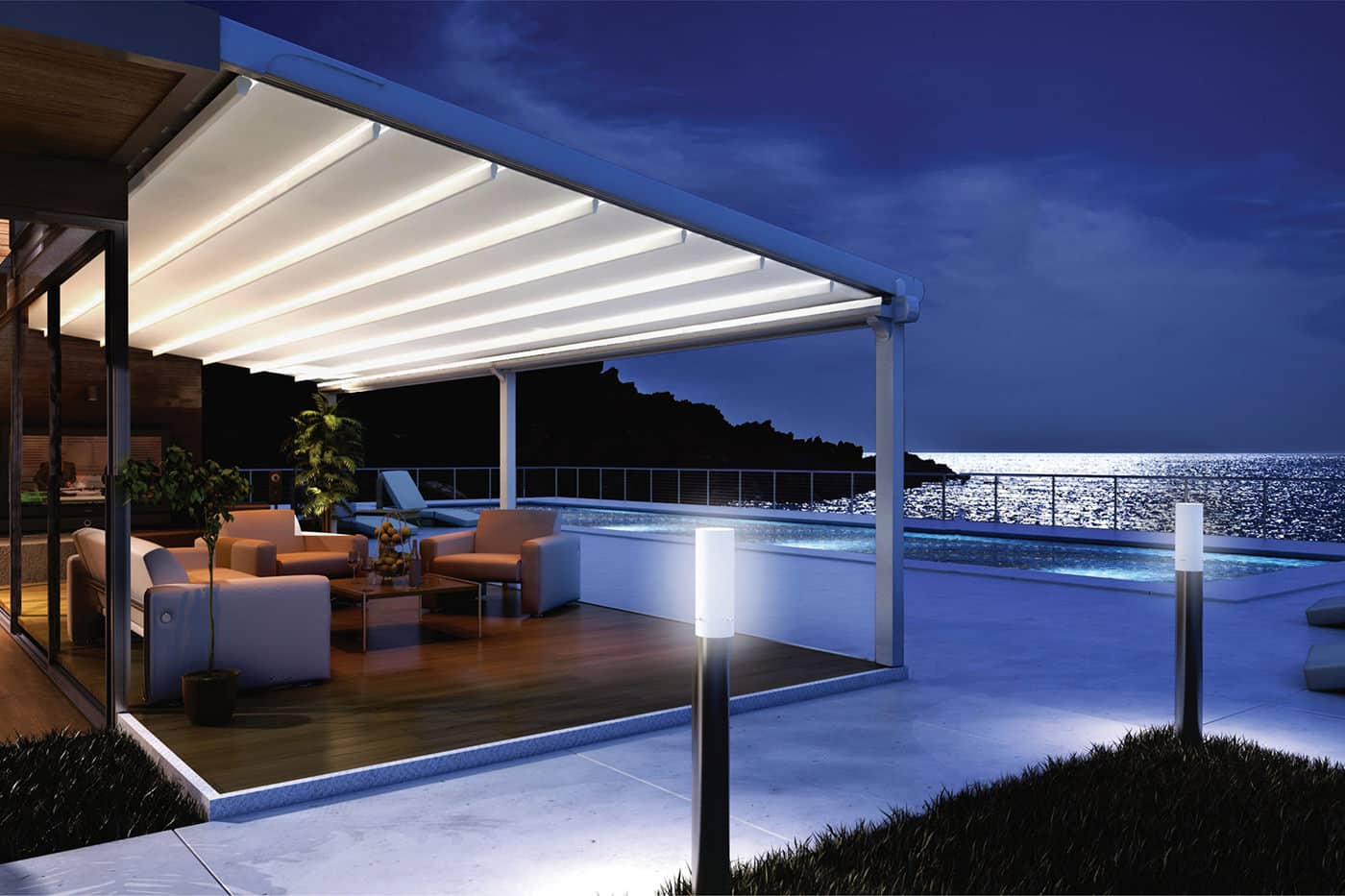 Our Retractable Pergolas come in various series, including a rail awning system enabling you to expand your outdoor areas for year-round use. The aluminium pergola roofing system with its clean lines and modern design provides protection from sun, rain and wind.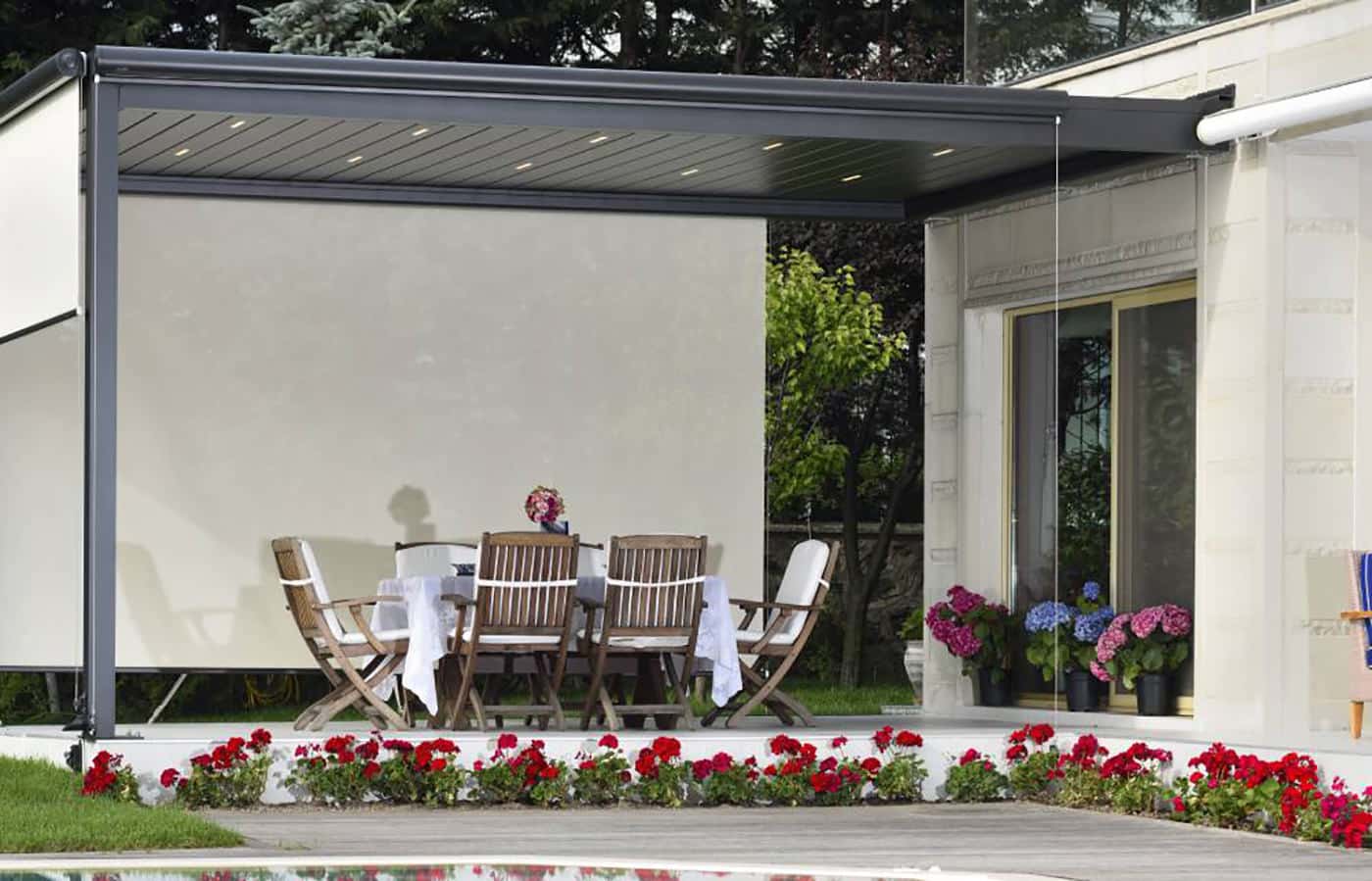 The Palmiye Louvred Pergolas allow you to retract from a fully enclosed pergola to fully feel the sky, providing an open roof space of 79% of the total covered area, due to the synchronised movement of the creatively designed panels.
At Complete Blinds, we offer an exquisite selection of premium window coverings to elevate your living and working environments. With our unrivaled expertise in blinds, curtains, shutters, and awnings, we provide the perfect combination of sophistication and functionality. Our dedicated team is committed to delivering impeccable customer service, ensuring a seamless and refined experience from start to finish.
Whether you desire timeless elegance, contemporary allure, or versatile practicality, our curated range of exquisite window treatments will exceed your expectations. Discover the art of transformative design and indulge in the luxury of bespoke window coverings that truly reflect your refined taste and elevate your space to new heights of grandeur. Experience the epitome of excellence with Complete Blinds today.