LUXAFLEX® FOLDING ARM AWNINGS
Experience elegance and functionality with Luxaflex® Folding Arm Awnings. Crafted with premium materials and reinforced with Dyneema tape, they ensure durability and tension. Dyneema tape is lightweight yet 15 times stronger than steel, offering UV, chemical, and moisture resistance.
Choose from exquisite fabrics to personalize your space while enjoying superior shade and privacy. With seamless operating systems, these awnings provide effortless control and adjustment. Elevate your outdoor living with Luxaflex® Folding Arm Awnings, embracing the perfect blend of style and functionality that enhances your property's charm.
Nordic Dynamic Semi
Experience the modern elegance and functionality of the Luxaflex® Nordic Dynamic Semi Folding Arm Awning. Its sleek design and semi-cassette enclosure provide superior fabric protection. The customizable pitch ensures optimal sun protection by setting the perfect angle during installation.
Exclusively motorized, it offers effortless control with a simple button press, allowing you to create the perfect ambience for any occasion. Enhance your outdoor space with this stylish and practical awning that combines form and function seamlessly.
Nordic Arafura
Discover the pinnacle of outdoor comfort and protection with the Nordic Arafura Folding Arm Awning from Luxaflex®. This streamlined full-cassette model retracts into a fully enclosed headbox, offering unmatched fabric and hardware protection.
Built with heavy-duty components, the Arafura's modular European design is perfect for both residential and commercial spaces up to 7 metres wide. A key feature is its customisable pitch, set during installation for optimal sun protection, ensuring a comfortable, shaded outdoor area. Experience the blend of style and functionality with the Arafura Folding Arm Awning.
Nordic Design
Elevate your outdoor space with the sleek and functional Nordic Series Awning. Designed to cover spaces of all sizes, it offers shade and sophistication with a span of up to 7 meters and a projection of up to 4.0 meters. Enhance your awning with optional accessories like a rain hood and a sunscreen roller valance for added protection and shade coverage.
The innovative Variable Pitch Control allows you to adjust the awning's pitch for optimal shading. Choose between crank control and motorized operation for effortless use. Experience the essence of European design with the Nordic Series Awning.
Luxaflex Evo Outdoor Blinds are designed and engineered in Australia specifically for the Australian market, making them ideal for our unique climate conditions.
Engineered and tested in Australia to handle our diverse and unforgiving conditions, the Luxaflex Evo MagnaTrack Awning is the most technologically advanced awning available on the market.
Folding Arm Awnings are raised and lowered using folding arms located at the outer edges. The benefit of Folding Arm Awnings is that they do not have frames and posts, so you can move around freely under the awning.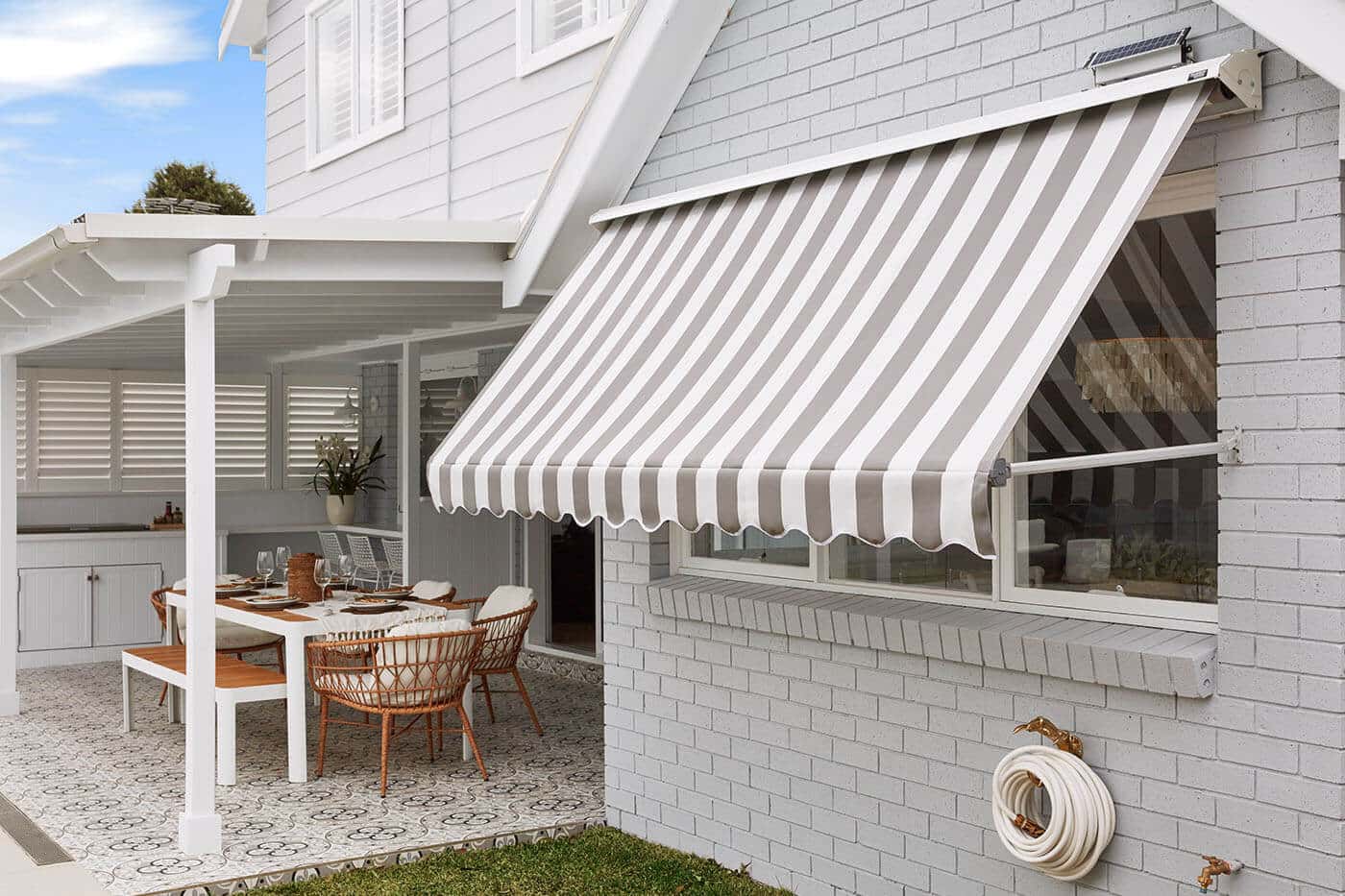 System 2000 Awnings are perfect for two-storey and multi-storey applications. The flexibility of these awnings allows for design consistency across all levels of a building. This award-winning system was designed for Australia's environments and is manufactured in Australia.
Canopy Awnings are a perfect choice for anyone wanting to add sophisticated and elegant awnings to their home or business. They come in a number of shapes and styles and can be installed over walkways, windows, and doors.
Straight Drop Awnings are very easy to operate. They are raised and lowered using a rope and pulley system found at the back of the awning and are operated using a stainless cable guide, crank control or channel-guide operation.
Luxaflex® Aluminium Awnings provide perfect shading for patios, verandahs, external windows and doors. If you are looking for traditional style and durability, consider one of our most long-standing and popular products.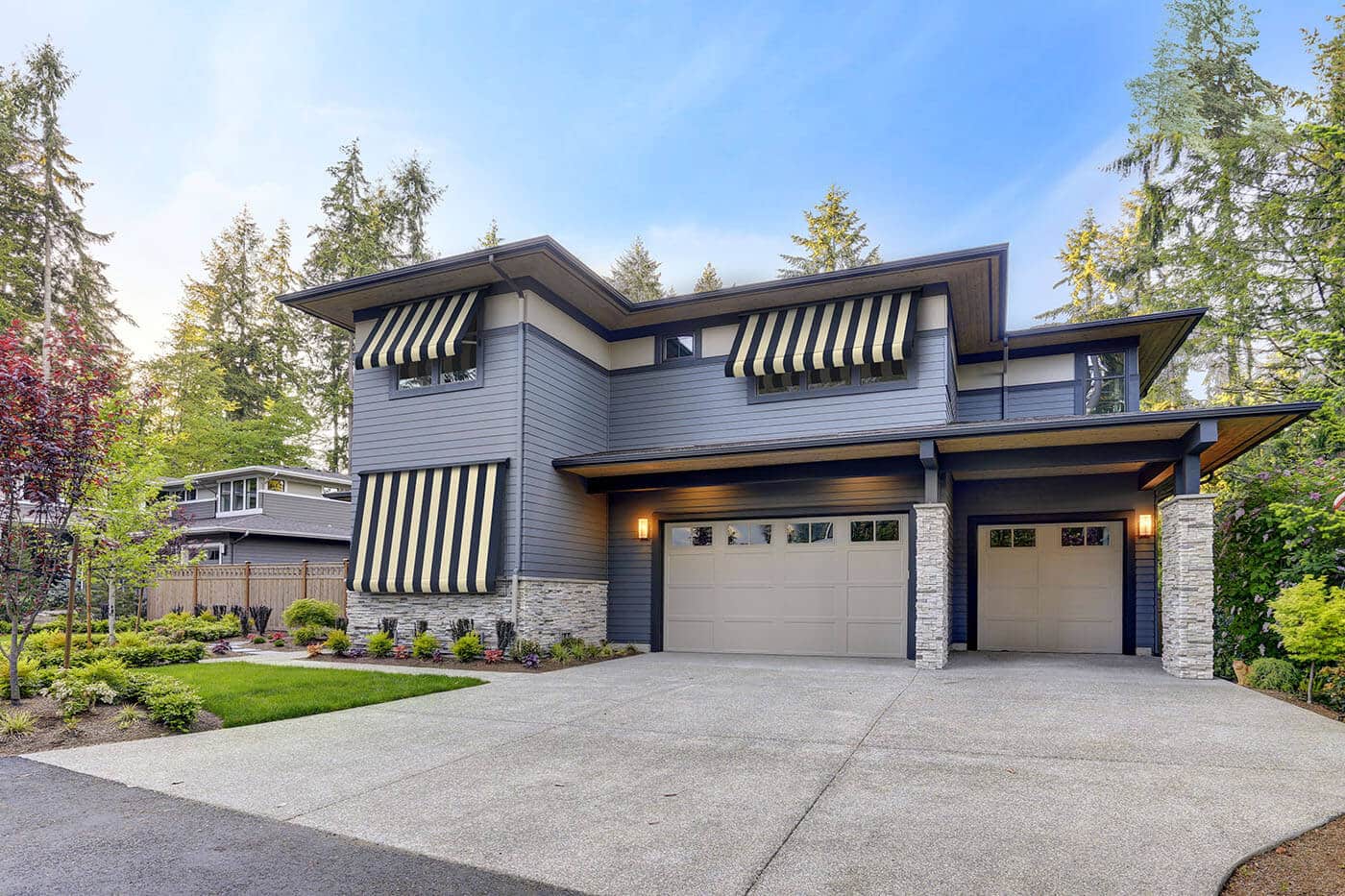 Are your existing awnings tired, worn or torn? Rather than replacing your awnings, Complete Blinds can re-cover them with a modern and durable fabric. In most cases, we can re-cover your awnings onsite.
Automate your awnings of choose with Somfy and Complete Blinds. Thanks to sun and wind sensors, your awnings will adjust automatically to weather conditions thanks to sun and wind sensors. When the sun is blazing, the awning extends and when the wind picks up, it retracts automatically.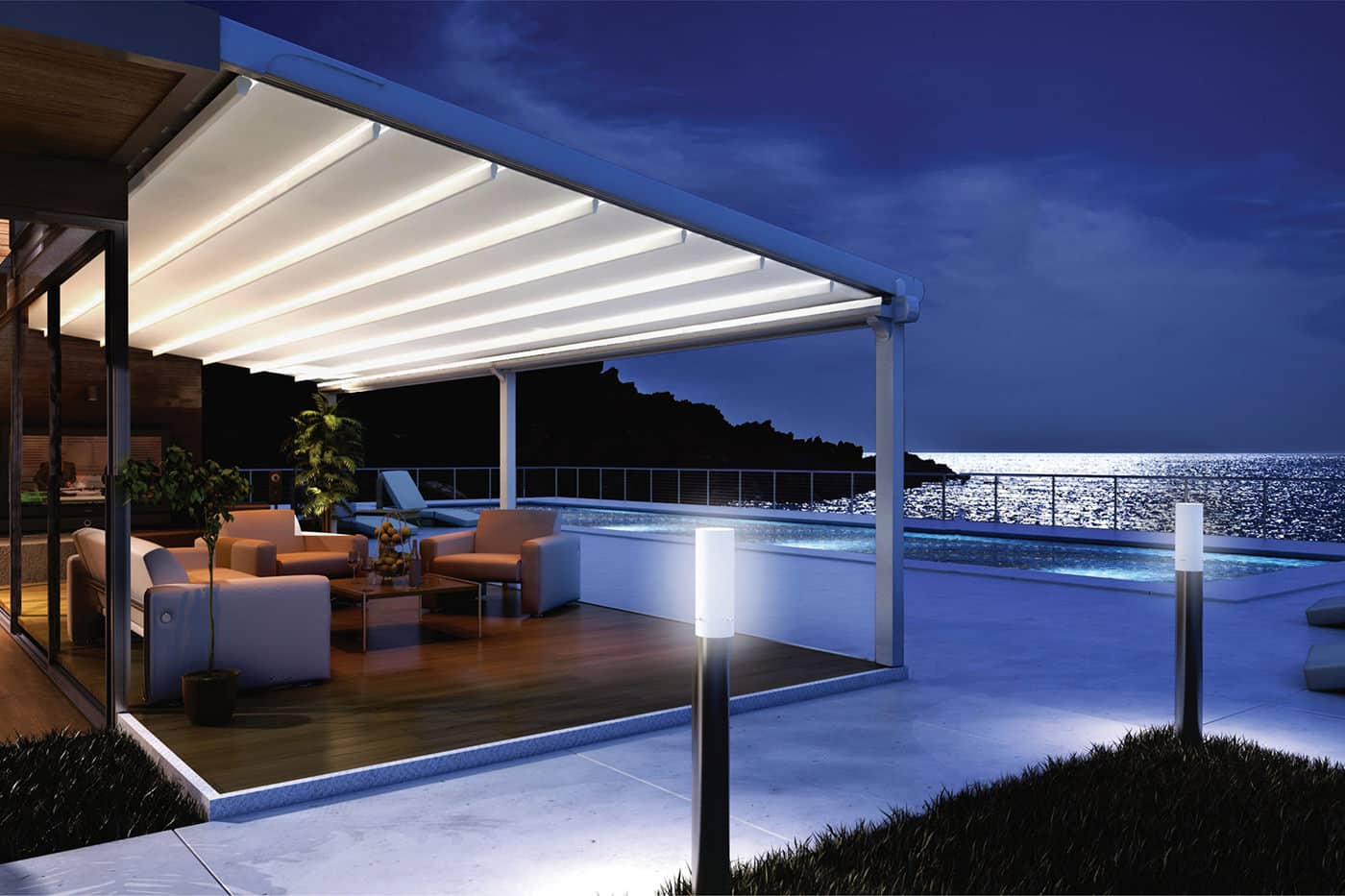 Our Retractable Pergolas come in various series, including a rail awning system enabling you to expand your outdoor areas for year-round use. The aluminium pergola roofing system with its clean lines and modern design provides protection from sun, rain and wind.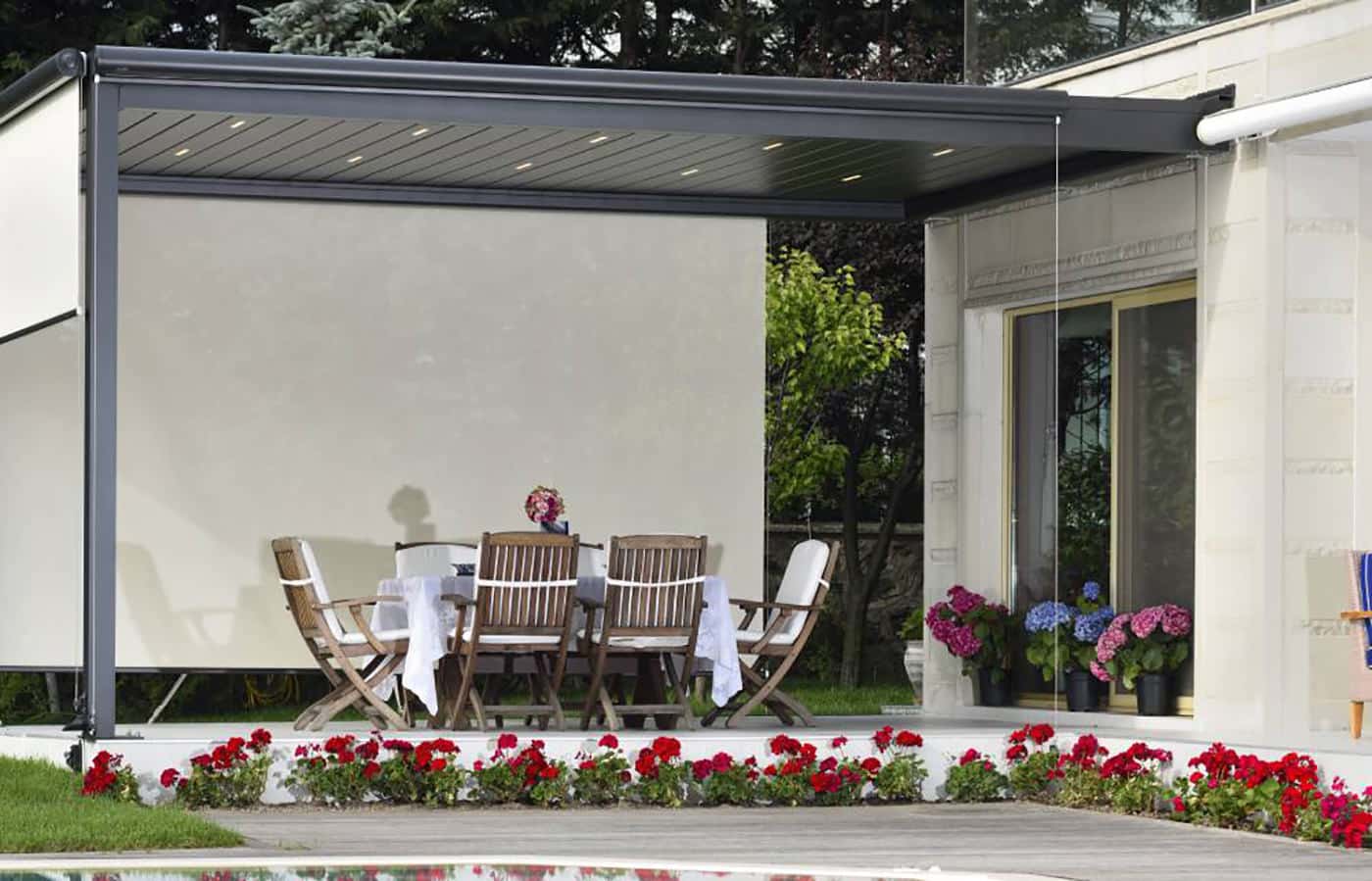 The Palmiye Louvred Pergolas allow you to retract from a fully enclosed pergola to fully feel the sky, providing an open roof space of 79% of the total covered area, due to the synchronised movement of the creatively designed panels.
At Complete Blinds, we offer an exquisite selection of premium window coverings to elevate your living and working environments. With our unrivaled expertise in blinds, curtains, shutters, and awnings, we provide the perfect combination of sophistication and functionality. Our dedicated team is committed to delivering impeccable customer service, ensuring a seamless and refined experience from start to finish.
Whether you desire timeless elegance, contemporary allure, or versatile practicality, our curated range of exquisite window treatments will exceed your expectations. Discover the art of transformative design and indulge in the luxury of bespoke window coverings that truly reflect your refined taste and elevate your space to new heights of grandeur. Experience the epitome of excellence with Complete Blinds today.