Norman Portrait™ Honeycomb Shades have a long-standing reputation for their luxurious materials and exceptional craftsmanship. With an extensive collection of close to 500 fabric options and five different cell sizes, they offer a wide range of styles to suit any taste. The collection also includes a variety of lifting systems, including child-safe cordless and motorised options, making them a safe choice for families with children or pets.
Additionally, Portrait™ Honeycomb Shades offer industry-leading construction and innovative solutions such as SmartFit, Decoflex, and Cordless Top-Down/Bottom-Up. These award-winning designs provide maximum light control and are easy to operate. Whether you're looking for a modern or traditional style, Portrait™ Honeycomb Shades will add an elegant touch to any room in your home. They are designed to look, feel, and perform like no other window covering option on the market.
Eco-Friendly With Style
Experience superior insulation and energy efficiency with Portrait™ Honeycomb Shades. Their unique construction minimises heat transfer, reducing energy consumption and keeping your home comfortable.
In summer, they block solar heat to decrease air conditioning usage, while in winter, they prevent heat loss, reducing the workload on your heating system. With air-trapping cells, they create insulation that keeps your home cool in summer and warm in winter. Say goodbye to energy waste and hello to year-round comfort.
Flexible Light Control
Choose from three opacities with Portrait™ Honeycomb Shades; sheer for a softened view and gentle light, light-filtering for a perfect ambience with 90% UV blockage, and room darkening for effective darkness and up to 100% UV blockage. Enjoy versatile light control and protect your space from harmful UV rays.
Beautiful & Functional
Experience luxury, style, and innovation with our fabric collection. The rich appearance exudes sophistication, while the D-cell structure ensures stability. Explore whites, off-whites, and neutrals, including high-fashion fabrics inspired by heritage weaves. Enjoy peace of mind with flame-resistant options. Elevate your space with our exquisite fabrics.
Split Control
Experience the customisable shading of SmartFit® Dual Shade with frame. Separate shades offer endless design possibilities with fabrics in any colour and opacity. Independently operate each shade for optimal light, privacy, and view. Join multiple shades horizontally for wider windows.
Motorisation
Experience ultimate convenience and control by motorising your Portrait™ Honeycomb Shades. Easily adjust your shades with a touch of a button on a remote control. Effortlessly reposition multiple shades at once for the perfect atmosphere. Enjoy hassle-free shade adjustment and elevate your comfort with motorisation.
The simplicity of roller blinds is both elegant and practical. With a huge designer range of fabrics, our fully Australian-made blinds will help complement your décor.
A window covering solution like no other, patented and exclusive Luxaflex Pirouette Shades combines poised precision and elegant light control to transform any room.
Discover Luxaflex® Silhouette Shades, offering the perfect balance of style and functionality. These window coverings allow you to control sunlight effortlessly, creating a warm and inviting ambience in any space.
For those looking to control the sunlight of any space with the touch of a button, look no further than Luxaflex® Luminette Privacy Sheers. Filter light in a wide array of spectrums, soften the glow, or allow it to come in full force.
Elevate your windows with Luxaflex® LumiShade. With a perfect balance of style, durability and child safety, this innovative window covering combines the versatility of a vertical blind with the softness and sophistication of a fabric treatment.
Experience the unparalleled energy efficiency of Luxaflex® Duette Shades, a top choice in the Australian market. Featuring a unique honeycomb cell design, these shades not only trap air but also provide exceptional insulation for your windows.
PerfectSheer Shades provide the perfect solution for the control of light, privacy and view. Norman's innovative PerfectSheer three-layered soft shades can quickly transition the shade from sheer to light filtering or room darkening.
All our Timber Venetian Blinds are custom-made and built to last. Venetian Blinds are easy to operate and suited to formal or casual areas. Take control over the amount of light entering your home and your privacy.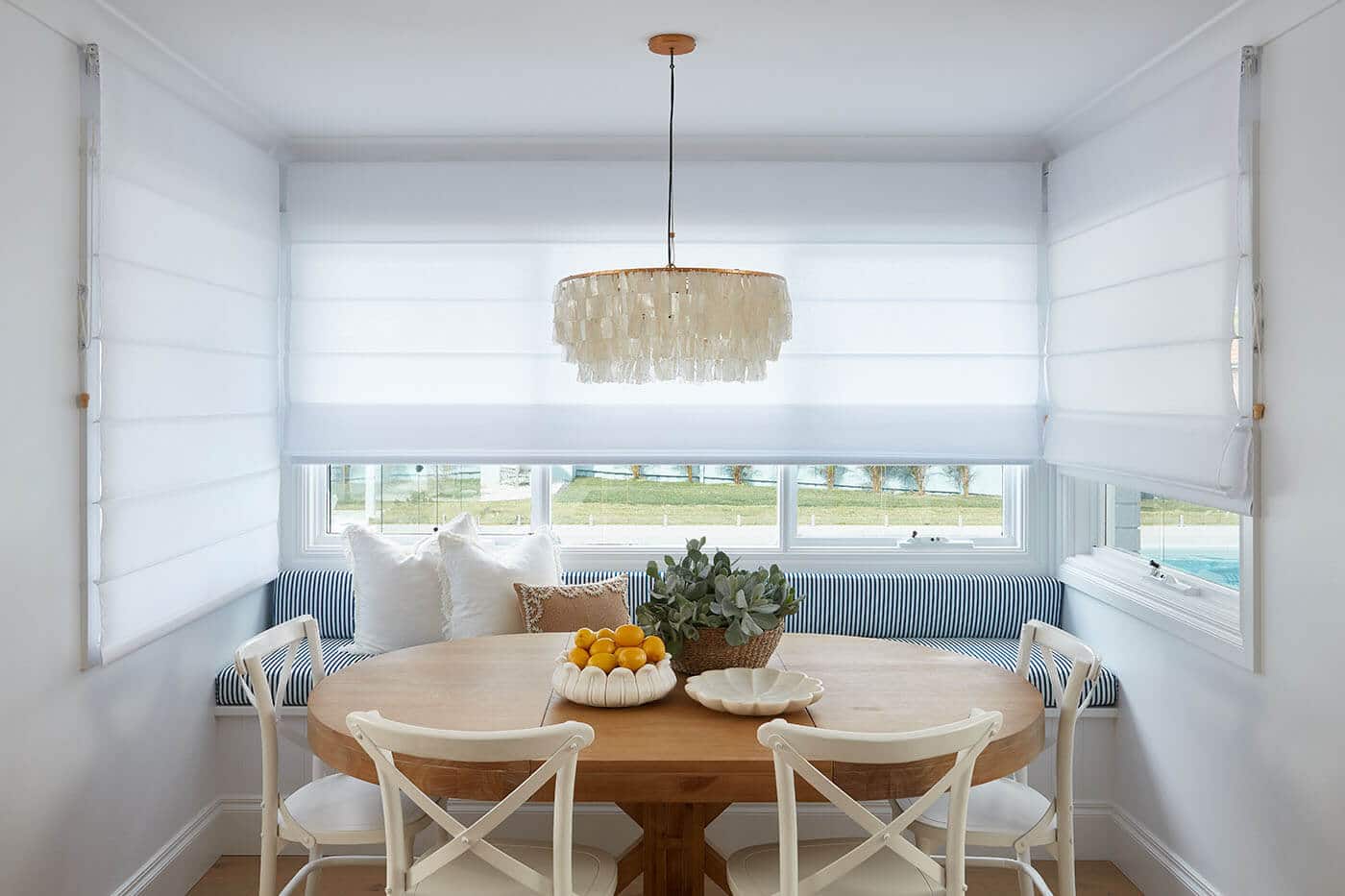 Roman Blinds effortlessly enhance the style of any home, whether classic or contemporary. Enjoy the perfect blend of privacy and insulation, combining the benefits of curtains in one versatile window treatment.
With rich materials, and an even richer history, Norman Portrait™ Honeycomb Shades feature award-winning designs, exclusive options and industry-leading construction for all elements.
Panel Glide Blinds make stylish and elegant additions to any home. They are specifically designed for open-plan homes with sliding, wide doors and come in a variety of sizes, colours, fabrics and stacks.
Somfy motorised blinds offer unparalleled convenience and comfort in your home. With just a simple press of a button or even a voice command, you can adjust the amount of light entering your home.
At Complete Blinds, we offer an exquisite selection of premium window coverings to elevate your living and working environments. With our unrivaled expertise in blinds, curtains, shutters, and awnings, we provide the perfect combination of sophistication and functionality. Our dedicated team is committed to delivering impeccable customer service, ensuring a seamless and refined experience from start to finish.
Whether you desire timeless elegance, contemporary allure, or versatile practicality, our curated range of exquisite window treatments will exceed your expectations. Discover the art of transformative design and indulge in the luxury of bespoke window coverings that truly reflect your refined taste and elevate your space to new heights of grandeur. Experience the epitome of excellence with Complete Blinds today.