If you're looking for a window treatment that offers the perfect balance of light control, privacy, and versatility, look no further than PerfectSheer Shades from Norman. With their innovative three-dimensional layered design, these soft shades allow you to progressively change your view, from sheer to light filtering or room darkening, all with the simple pull of a cord.
PerfectSheer Shades are perfect for any room in your home, whether you want to enjoy a clear view of the outdoors or need to block out light and maintain privacy. And with a wide range of fabric textures and colours to choose from, you can easily find the perfect shade to complement your décor and uplift your space to a new level of functionality, elegance, and style.
At Complete Blinds Sydney, we are proud to offer our customers the latest in window treatment innovation, including the PerfectSheer Shades from Norman. Our team of experts can help you select the perfect shade for your home, ensuring that you get the functionality, style, and quality you deserve.
A Perfect View
Enhance your home with the unique and stylish PerfectSheer™ Shades from Norman. These shades go beyond window coverings, adding elegance and sophistication to your living space. PerfectSheer™ Shades create a soft interplay of light, colours, and shadows, elevating privacy control with beauty and softness. They are perfect for creating a cosy and welcoming atmosphere while enjoying natural light and a stunning view.
Experience the enhanced transitional light provided by PerfectSheer™ Shades, transforming any room into a relaxing and stylish retreat. The banded, layered shade with a sheer fabric vane shade offers a sleek and modern look that will impress your guests.
Perfect Choices
Control the amount of light entering your room with PerfectSheer™ Shades. These shades offer two opacity options for optimal privacy and protection against UV rays.
The room darkening opacity creates a calming effect, perfect for bedrooms or spaces where restful sleep is essential. Block unwanted light and create a peaceful environment for relaxation. Choose the light filtering opacity to allow more light into your space while maintaining privacy. Ideal for living rooms and dining areas, it creates a warm and inviting atmosphere.
Experience the versatility and functionality of PerfectSheer™ Shades as you effortlessly adjust light, privacy, and ambience in your home.
Craftmanship
Experience the impeccable craftsmanship of PerfectSheer™ Shades, a true work of art. These shades are intricately woven using three layers of premium fabric, creating a visually stunning window treatment.
The woven construction ensures durability, withstanding everyday use. It also allows for beautiful ambient light effects, elevating the natural light in your home while maintaining privacy and light control.
Choose PerfectSheer™ for its exquisite craftsmanship and high-quality materials. Whether you seek elegance for your bedroom or warmth for your living room, these shades exceed expectations in design and functionality.
The simplicity of roller blinds is both elegant and practical. With a huge designer range of fabrics, our fully Australian-made blinds will help complement your décor.
A window covering solution like no other, patented and exclusive Luxaflex Pirouette Shades combines poised precision and elegant light control to transform any room.
Discover Luxaflex® Silhouette Shades, offering the perfect balance of style and functionality. These window coverings allow you to control sunlight effortlessly, creating a warm and inviting ambience in any space.
For those looking to control the sunlight of any space with the touch of a button, look no further than Luxaflex® Luminette Privacy Sheers. Filter light in a wide array of spectrums, soften the glow, or allow it to come in full force.
Elevate your windows with Luxaflex® LumiShade. With a perfect balance of style, durability and child safety, this innovative window covering combines the versatility of a vertical blind with the softness and sophistication of a fabric treatment.
Experience the unparalleled energy efficiency of Luxaflex® Duette Shades, a top choice in the Australian market. Featuring a unique honeycomb cell design, these shades not only trap air but also provide exceptional insulation for your windows.
PerfectSheer Shades provide the perfect solution for the control of light, privacy and view. Norman's innovative PerfectSheer three-layered soft shades can quickly transition the shade from sheer to light filtering or room darkening.
All our Timber Venetian Blinds are custom-made and built to last. Venetian Blinds are easy to operate and suited to formal or casual areas. Take control over the amount of light entering your home and your privacy.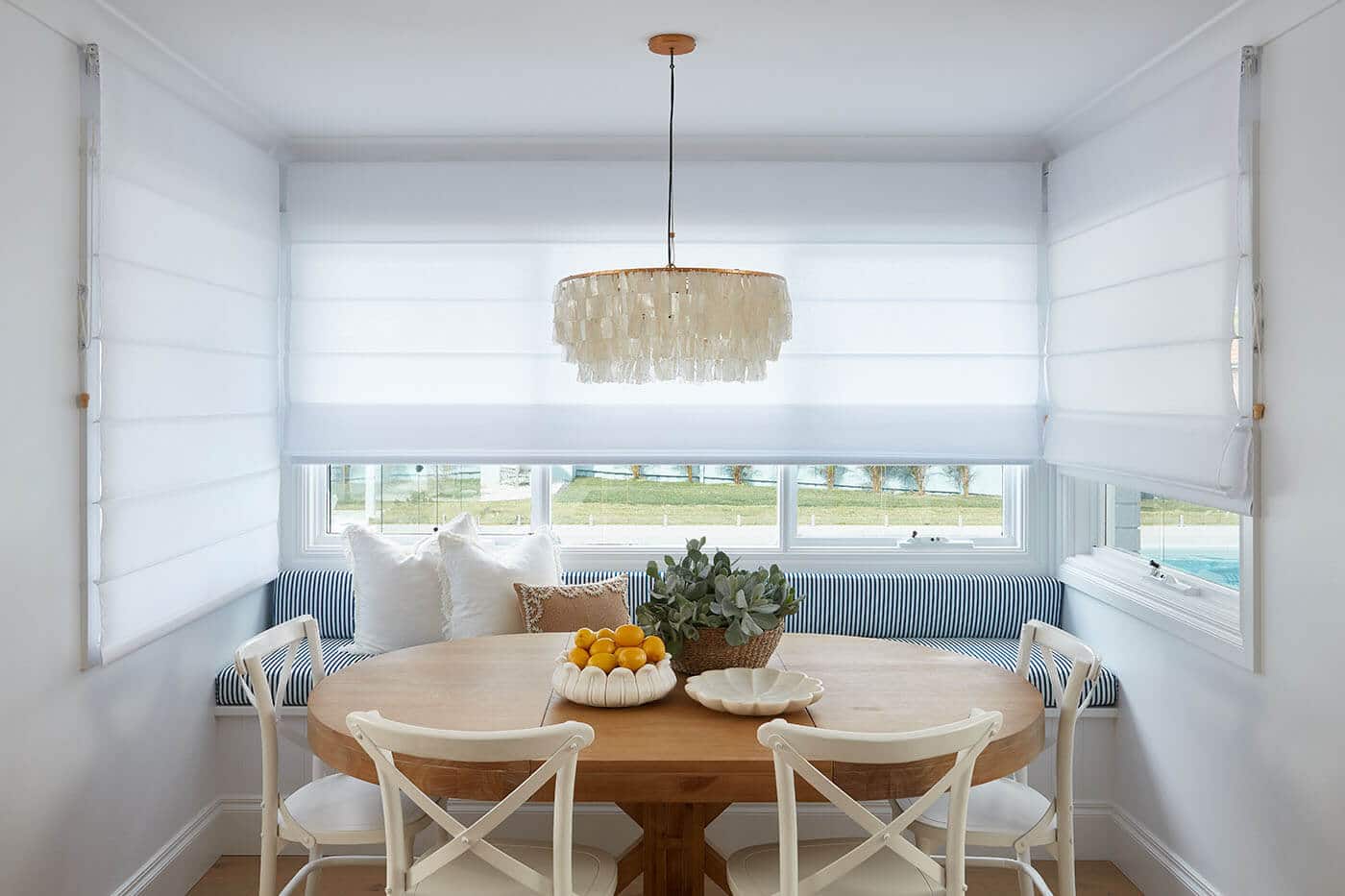 Roman Blinds effortlessly enhance the style of any home, whether classic or contemporary. Enjoy the perfect blend of privacy and insulation, combining the benefits of curtains in one versatile window treatment.
With rich materials, and an even richer history, Norman Portrait™ Honeycomb Shades feature award-winning designs, exclusive options and industry-leading construction for all elements.
Panel Glide Blinds make stylish and elegant additions to any home. They are specifically designed for open-plan homes with sliding, wide doors and come in a variety of sizes, colours, fabrics and stacks.
Somfy motorised blinds offer unparalleled convenience and comfort in your home. With just a simple press of a button or even a voice command, you can adjust the amount of light entering your home.
At Complete Blinds, we offer an exquisite selection of premium window coverings to elevate your living and working environments. With our unrivaled expertise in blinds, curtains, shutters, and awnings, we provide the perfect combination of sophistication and functionality. Our dedicated team is committed to delivering impeccable customer service, ensuring a seamless and refined experience from start to finish.
Whether you desire timeless elegance, contemporary allure, or versatile practicality, our curated range of exquisite window treatments will exceed your expectations. Discover the art of transformative design and indulge in the luxury of bespoke window coverings that truly reflect your refined taste and elevate your space to new heights of grandeur. Experience the epitome of excellence with Complete Blinds today.