Plantation shutters are a wonderfully versatile window covering that can be custom-painted to suit the unique design of your home. Installing coloured plantation shutters is a great way to modernise and spruce up a space without completing any major renovations. This beautiful window covering can increase the value of your home while also making it cosier and a nicer place to live.
Choosing Plantation Shutters Colours
With most window treatment options, you must choose from a shortlist of standard colours. Plantation shutters, however, offer nearly unlimited colour options. They are one of the few window treatments that can be custom painted. So which plantation shutter colours should you consider?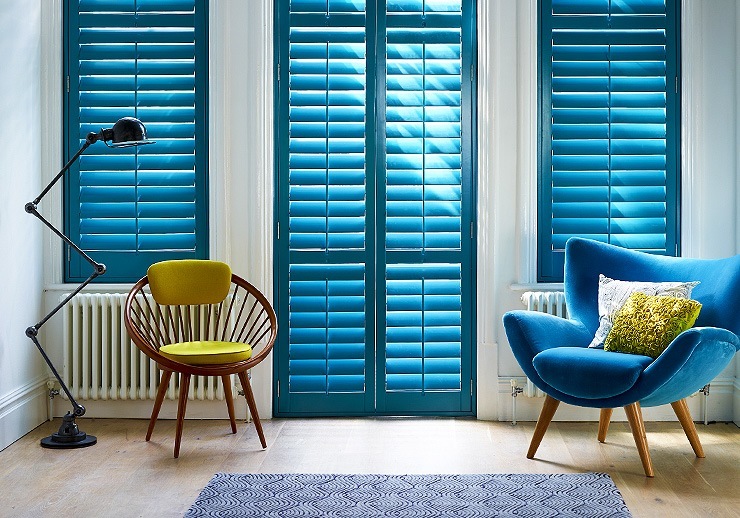 Brightly coloured shutters on the outside of a home are fairly common, although a homeowner with a unique style may choose to add colour to their indoor window treatments as well.
Bright white shutters are classic and elegant, but in certain spaces, you may find pure white shutters to look glaringly bright.
Dark coloured plantation shutters add an air of sophistication to any space and other alternate colours can bring a lot of pizazz to your place. They can also absorb sunlight more than white.
Here are a few of the most popular plantation shutter colours (other than white) that we have available…
Black Plantation Shutters
Black plantation shutters can make a dramatic statement. They're well suited for spaces you want to be kept a bit darker like basements, TV rooms and "man caves." With the right wall colour or a splash of lightness for contrast, they can even work well in bedrooms and dining rooms. Black plantations shutters in a bathroom can provide some extra privacy and an elegant finish. Pairing them with black and white décor can also create a strong impact.
Wood Stained Plantation Shutters
After white, the most popular plantation shutter finish we offer is probably wood grain. You can choose any stain from a whole spectrum of tree woods, from light golden pine to rich red tones and chocolatey dark stains. Many of these finishes can have a very natural feel, ideal for cabins and cozy rooms. On the other hand, brighter wood finishes such as yellow wood can have a sunny, youthful feel and are great for cheery kitchens and kids' rooms.
Earth Toned Plantation Shutters
Plantation shutters painted in earth tones such as solid browns, greens and blues turn any space into an indoor oasis, contributing a playful, breezy vibe to your windows. The need for wall décor becomes less pressing as your windows themselves become an artful focal point. If your windows have them, you may leave window frames white or paint them to match the shutters. Blue plantation shutters are a bold option that still looks amazing almost anywhere. If you're nervous about the way a certain bold colour will look, you could try installing your colourful shutters on a small bay of windows and then deciding whether or not you want to install them elsewhere.
How Custom Plantation Shutters Work
Plantation shutters are one of the few window treatments that can be custom-painted. This is because shutters are usually mounted in shallow boxes called "frames" that attach directly to the casing of the window. The frame provides a surface for the shutter panels to mount to, but also visually ties the shutter to the window trim so that, with a good colour match, it is hard to tell where the window casing ends and the shutters begin.
Custom plantation shutters are typically designed and built to appear as part of the window. If you plan to change your trim colour, you may want to consider painting the trim the new colour before the shutters are installed. Changing the plantation shutter colour after installation will likely be a much more complicated and expensive process.
Benefits of coloured plantation shutters
Plantation shutters are some of the most versatile window coverings available. With a huge range of colours available, they can be customised to suit just about any space. In addition to their design benefits, plantation shutters are less expensive to purchase and install than many custom drapes and can even increase the value of your home. Upgrading your windows with new blinds can often be financed into the purchase of a new home.
Making the most out of different plantation shutter colours
In order to select the best shutter style for your home, make sure it will fit with the style of your entire house. If your house is decorated in a more traditional style, then simple white plantation shutters may suit best. If you live in a modern home, you can play with the colours a bit more and can be confident choosing something different and "out of the box". When it comes to choosing an unconventional plantation shutter, the most important thing to do is to remember to express your personal style!
To learn more about our range of custom plantation shutter colours, get in touch with the team at Complete Blinds! We offer free in-home consultations so you can take a look at our plantation shutters in your own home.