We all have existing colour schemes in our homes. Whether its intentional or just through collecting our favourite pieces, we often gravitate to one tone or hue more than others. This leads us to a combination that is pleasing to our eye at the time.
Whether you're building from scratch or looking to spruce things up, you may need to consider how your window coverings will complement your colour scheme. Here are the best ways to pick colourful blinds that will make your home look cohesive and unique to you.
1. Consider Personal Preference
Find out what you like. If you don't already have a picture in your mind of how you want your home to ultimately look, find inspiration. Pinterest and design blogs are great places to start to pique your interest and discover the joy of a beautiful colour scheme.
2. Discover Your Sense of Style
Are you a traditionalist in style, or do you prefer something more contemporary, modern, or even country-chic? Whatever your personal style, the blind colours you choose will determine which direction your interiors take.
Just know that what you are drawn to immediately is probably the style direction you love. If you want to be pushed a little outside of your comfort zone you should dig a little deeper and try new things.
3. Take A Look At Your Furniture
Blind colours could be dictated by the style of furniture you love. Big cushy couches and curves everywhere could have you choosing warm hues while modern, sleek finishes and minimalist styling could have you going for the cooler shades. Don't be afraid to mix these up for more contrast!
4. What Colour Are Your Existing Walls?
Your walls could be the deciding factor when it comes to your window covering choices. Know your tones – for example, grey is very popular colour choice! If you don't have the option of repainting, make sure you have a good look and decide whether it's a cool grey (undertones of blue or green) or a warm grey (undertones of red or pink).
Your existing colour scheme can be the perfect jumping off point for choosing your colourful blinds. If you prefer décor that blends you should look for colours that live in the same hue as your wall colour. By going one shade lighter or darker your windows will have some interest and draw the eye without being a focal point.
If you LOVE contrast and colours that pop off each other then you need to look for colours that have contrasting hues. Look at the colour wheel and find the opposite wheel colour to your existing wall shade as a good starting point.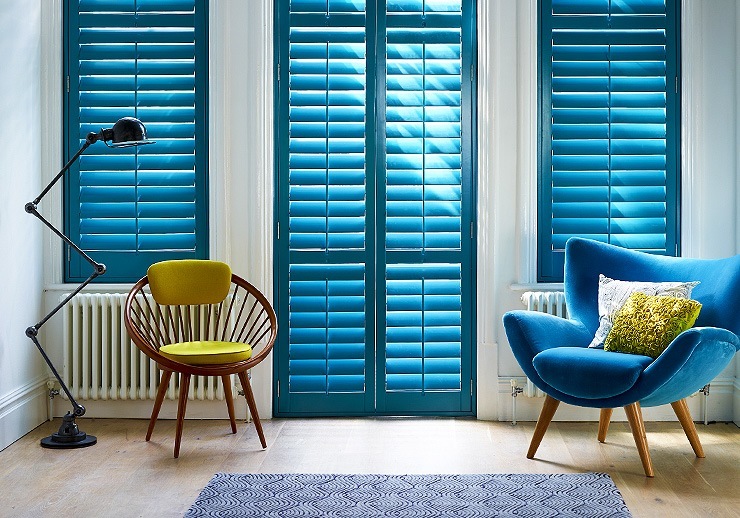 5. Look At Existing Furniture or Décor Colours
Perhaps you have a favourite pendant or your fireplace is painted a fantastic shade of yellow. Think about taking that as your inspiration and going all out in that room with your blind colours. If bright yellow blinds don't appeal at all, think about going the complete opposite and choosing a cool purple, blue or green to contrast your favourite piece (or vice versa for a favourite piece in a cool tone).
6. Take Inspiration From Your Favourite Era
Every decade or group of decades has had a significant colour palette attached to it. Perhaps your love is mid-century modern, and your furniture reflects that. How about choosing from a 30's colour palette? Of course, it will be an updated shade but the feeling you retain in your home will be one of mid-century and compliment your existing scheme.
At Complete Blinds we know exactly how to help you choose the perfect colourful blinds to compliment your home. Call us to find out more.